Memoires of a Grateful Patient
Getting Ready
Buy new pajamas
Organize the car team – be sure it's people you can argue with
Make your favorite soups – run them through the nutribullet – you'll understand later
Now is your time (excuse) to spring for permanent makeup and semi permanent eyelashes
Gather pretty scarves – you'll understand later
Obtain a walker and a cane – don't be scared they're just for show (not)
Surgery
Surgery is easy. They do all the work. Enjoy.
Post Surgery
Ouch! I was so grateful for my husband and my dear friend who never left me alone. When I woke up hurting, they pushed the button for me.
Technique is everything. An angel in the hospital who helped me back to bed told me to cross my arms with my hands touching my shoulders, sit on the edge of the bed and lean into the propped up pillows then stretch out. The neck and shoulders didn't move and that didn't hurt a bit!
When it really hurt, I would have my husband or friend stack pillows so that I could stand and lean over into them. This took the pressure off and gave me relief until I could catch my breath and get back into bed. (Note: the nurse told my husband I shouldn't do that. Maybe I should have brought candy for her.)
Time to Go Home
Yea! This is a beautiful, magical time.
My husband (an engineer) made a spreadsheet schedule of my meds. It worked beautifully. No pain and the neighbors found me very entertaining. This lasted a couple of days and then I didn't need the meds at all anymore.
We've all heard of the side effects of pain medication. I asked my husband to make my coffee with prune juice instead of water and I had no problems.
Remember the scarves? They are to tie around your neck brace when you go out. (Chauffeured, of course) The comments were fun. One man looked at me and said "um hum, too much necking". Kindness is unimaginably everywhere out there.
Believe it or not, the neck brace is your friend. See how happy the cushions are after their bath: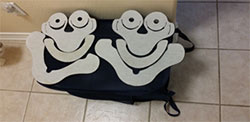 Re-entry
I tried to warn my very caring family and friends to be careful that they didn't create a spoiled brat to have to deal with after I recovered. They didn't listen.
They were right. More and more I wanted to do things for myself and was ready to get my new neck back to work. (Remember I suggested a care team you could argue with.)
I am tremendously grateful for so much care, love and laughter from so many for so long. Anticlimactically, I'm going back to real life and let my care team have a much deserved rest.