Advanced Orthopaedics and Sports Medicine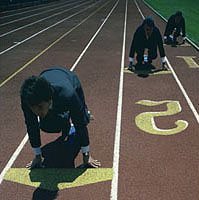 Advanced Orthopaedics and Sports Medicine is dedicated to treating a wide range of orthopaedic conditions and injuries.
Our doctors have extensive training from around the world, and are up to date on all the latest techniques and technologies. Our specialties include arthroscopic and minimally invasive surgery, artificial joint and disc replacement, cartilage transplantation, complex ligament reconstructions, and intricate hand and microscopic surgery. We have also led the way in electronic medical records and digital imaging.
Whatever your ailment, we have the medical expertise and technological capability to successfully treat your problem and help you recover as quickly as possible.
Advanced Orthopaedics, with three locations in Northwest Houston, employs seven dedicated physicians, each a specialist in his or her field. Our staff is made up of experts in every area of orthopaedics, from sports medicine to arthroscopic surgery. Each of our physicians specializes in treating specific parts of the body and is committed to keeping up with the latest orthopaedic advances in his or her area, so whatever your ailment, we have the expertise and technology to effectively treat your problem.
To view more information, please visit www.advancedosm.com
Advanced Orthopaedics and Sports Medicine – Other Surgeons