Candice Sanders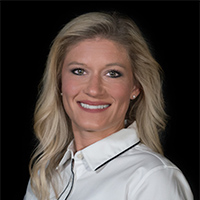 Candice began her career in 2005 at Tomball Regional Hospital in the Critical Care Unit after obtaining a Bachelor's Degree in Nursing at The University of Texas in Arlington. Her profession transitioned over the years working in intensive care, oncology, general surgical, and orthopedic surgery services. Acquiring these years of field experience has lead Candice to where her career path is today.
Candice Sanders graduated Magna Cum Laude with honors in the top 10% of her class, earning her Masters Degree in Nursing from Maryville University. She then became a board certified Family Nurse Practitioner through the American Association of Nurse Practitioners.
Candice's most impactful experience as nurse practitioner is the educational component. She is dedicated to teaching her patients about their health, the pathophysiology behind their symptoms. She feels the educational component in patient care is key in ensuring patients make informed medical decisions, to manage their existing conditions and to prevent additional conditions from occurring in the future.
Her best accomplishment is being a mother to her two sons who are seven and ten and a dedicated wife. Her weekends are filled with bike riding, soccer games, and spending time with friends and family.